Top Myths about Zazzling - Part One: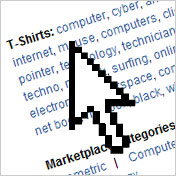 Last week in the forum, i_dentity asked the question that comes into every new Seller's mind at some point: I have oodles of products, but I haven't sold a thing! What is my problem?
While the friendly folks in the forum shared some interesting insight on Zazzle success, we'd like to take this opportunity to dispel some of the most popular myths that have been misguiding innocent Sellers since the beginning of time.
Here's Myth #1: Use lots and lots of product tags.
We're not sure where this rumor started, but more tags ≠ more sales. In reality, your most powerful tags are the first five. There is a 500-character limit on tags, so don't waste space with product type names and variations like t-shirt, tee, and tee shirt - they don't help anyway. Instead, focus on describing your product's design content. What is the specific subject matter? What is the main image or text? Just remember that any tags beyond your top five are a bit less important, so choose your top keywords wisely!
In order to decide which phrases or words to pick for your top five tags, we recommend using the Google Adwords Keyword Tool. Once you've made a list of 10-20 keywords, pick the tags that are most relevant and most specific to your product and enter them into the Keyword Tool to find which tags make the most popular search terms. The least generic keywords with the most monthly searches should be closer to the top of your tags.
For instance if you are making designs for fall weddings *hint hint*, you will find that the following is true:
Fall wedding > Autumn wedding
Bridal shower > Wedding shower
Waffles > Pancakes
...Just kidding! We love pancakes.
Anyway, we hope that resolves some of your confusion about how to use tags. Stay tuned for Part Deux!

Zazzle Stat Pak:
Get Inspired!
Based on recent user trends, here are some fun design ideas for the coming week: