Top Myths about Zazzling - Part Deux!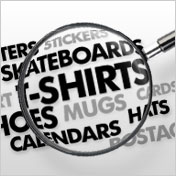 Two weeks ago in Volume 3 of the Seller Newsletter, we debunked Zazzle Myth #1: Use lots and lots of product tags. We hope you took our advice and optimized your top five tags instead of coming up with a bazillion new keywords for your designs…
And now, onward and upward!

Here's Myth #2: Using irrelevant tags will boost your sales.
Search for your favorite branded content in the Zazzle marketplace, and you will more than likely find amid the newest products, a bunch of merchandise that has nothing to do with what you're looking for.
We've noticed that some Sellers have resorted to tagging their products inappropriately in order to show up in random search results. While using popular but irrelevant tags is certainly annoying to customers and Sellers alike, this type of behavior is actually considered spam in the Zazzle marketplace. So, despite the five minutes of fame, products with irrelevant tags will ultimately be dropped to the end of the search results and buried away under hundreds of thousands of other products.
By tagging your products incorrectly we all lose customers because if someone is looking for political merchandise (*hint hint*) and you show up in the results without the proper content, then chances are the customer won't be buying your product anyway! Why waste your time?
Instead of keyword spamming with hot tags, we suggest that you design great products that are, in fact, compatible with those popular topics. Here are a couple of trending tools that will help to keep you ahead of the curve on what might be searched in the marketplace:
popurls – a real-time aggregator of popular headlines from top news sites
Trends Buzz – an aggregator of hot search terms and trending topics
Know Your Meme – an internet meme database
Start designing towards popular topics and you just might see some increased sales! Good luck!
Zazzle Stat Pak:
Get Inspired!
Based on recent user trends, here are some fun design ideas for the coming week: