Hot Product Spotlight / A Special Announcement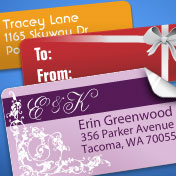 Since the launch of Avery custom labels, a few weeks ago, we've noticed a few interesting label trends that we wanted to share:
Wedding Labels
One of the most popular searches within the last week, wedding labels are a hot new design theme that surely has staying power. Given the amount of weekly sales that go towards wedding invitations and save-the-dates, we think that wedding labels will be a surefire way to add a little more padding to your Zazzle income.
Design wedding-themed address labels and return address labels, along with wedding favor labels and bridal shower labels, and you just might see a favorable spike in your royalties.
A little bird told us that baby shower labels and holiday labels are on the rise as well, so add your designs to the marketplace ASAP!
Now that Zazzle has everything that customers need for a fully personalized wedding mailing, consider creating stationery sets that will include everything that a couple would want from start to finish. This would include: engagement announcements, save the date cards, save the date magnets or stickers, wedding invitations, RSVP cards, bridal shower invitations, bachelorette party invitations, thank you cards, address labels, return address labels, envelopes, and postage.
To make wedding stationery sets for your store, simply create one of each product using your chosen image or design theme, and save all of the products into one new category folder. This way, shoppers will easily be able to find all of the necessary matching products to complete their perfect mailing.
Speaking of categories, we have an announcement:
In October, Zazzle will be adding a new feature for displaying store categories on the site. Currently, when a customer views a store category, the page displays all products under that category, including products that are in a subcategory. With our new category display feature, you can opt to have your categories work like folders, so that only products that are specified within the given category will be displayed.
For example:
SellerSuzy has a category called ANIMALS, and inside that category she has a subcategory called CATS and another one called DOGS. Under CATS, she has 10 cat-related products, and under DOGS she has 5 dog products.
Using today's "filtering" method, when a shopper clicks into the ANIMALS folder, they will see all 10 of SellerSuzy's CAT products AND all 5 of her DOG products. Using the new "folder" method, the customer will only see the subcategory folders called CATS and DOGS.
Unless SellerSuzy has products that are categorized only under ANIMALS (without a subcategory), no products will be displayed until the shopper clicks on one of the subcategory folders.
This new feature will make it easier for shoppers to navigate your categories and find precisely what they are looking for in your store. While this new "folder" method will be the default for new stores, existing stores currently using the "filtering" display method, can choose the new display option in My Account->Store->Edit Content, if desired.
IMPORTANT: Please note that as a result of this new change, Sellers will no longer have the ability to set a display order at the top-level of their stores. You can still sort the items at the given level of any category, but not everything below it. We recommend that you start using the Featured Products category on your home page in order to avoid losing any of your existing sorts.
Zazzle Stat Pak:
Get Inspired!
Based on recent user trends, here are some fun design ideas for the coming week: