Alohomora!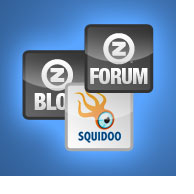 To celebrate the release of the new Harry Potter and the Deathly Hallows merchandise coming soon, we'd like to point our wands to some of the best places to find Zazzle magic tricks (and tips) outside of the Seller Newsletter.
The Forum
The Zazzle forum is one of the best places to toss around ideas and share strategies with other Sellers. Whether you search the archives or start your own thread, you'll surely receive some great advice for how to make your store work for you! If you don't have a particular question, we recommend that you check out this compilation of helpful links posted by Felidae52.
Zazzle Blog
The Zazzle blog is a hot spot for useful information, where you can find out about our latest product releases, catch up on fun news highlights, and read lots of great insider tips from some of our most successful Sellers. Check out the great tips posted on Seller Wednesdays and in our Featured Seller Interviews, and you'll be sure to come across some gems that you may not have known before.
Squidoo
Not only is a Squidoo an amazing resource for beginning Sellers looking for tutorials, it is also a wonderful platform for promoting your store and earning referrals. In fact, if you haven't already started a Squidoo lens to promote your store, you are missing out on some potential earnings. With the launch of new Harry Potter gear, we highly suggest that you use Squidoo and other sites to start promoting now, so that you'll be able to cash-in once people start searching for merchandise when the movie is released.
If none of the above is news to you, here's a tip that just might blow your mind:
Share a phenomenal new tip that we've never heard before and we'll feature your store right here in the Seller Newsletter. Can you say "free publicity"?! Just use the Email Us link to the right.
Zazzle Stat Pak:
Get Inspired!
Based on recent user trends, here are some fun design ideas for the coming week: