Promote Your Store with Holiday Cards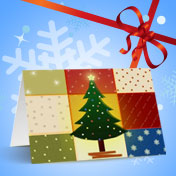 In light of the current free holiday card promotion on the site, we'd like to share a few tips for how to use a holiday card mailing to promote your Zazzle store.
1. Send your own card design.
This seems like a no-brainer, but the best way to spread the word about your Zazzle store is to use your own designs. Make sure that the card has your name & store URL printed on it, so people will know that you made it. Don't forget to add the Zazzle star to be credited for referrals.
2. Send a business card inside of each holiday card.
Put a special touch on your mailing by using a chubby card as an insert. Print a cool image on a set of chubby business cards (making sure, of course, to include your store URL somewhere), then hand-write a personalized message on the back of each card. Remember: a little handwriting goes a long way. The more visible effort you put into a card, the more engaged your card recipients will be.
3. Turn your business card into a gift card.
Print a holiday-themed business card for your store, and on the back include an offer to do free design work as a gift for friends and family. You can even take it a step further: Sheila of TeeLoft, for instance, designs logos for clients and then builds Zazzle stores and creates products for them at no extra cost. She gives her clients a link to their store, so that they can purchase products, and then adds each store to her own Volume Bonus settings. Check out the store that she created for the non-profit ChelseaShines. Create stores using your free design work, and eventually your gifts will pay for themselves.
4. Use stamps, envelopes, and address labels with your store logo.
Having a logo is crucial to building brand awareness. An eye-catching logo on your postage, envelopes, and address labels will work wonders for drawing interest to your Zazzle store. A good logo doesn't always have to be flashy, but it should represent the personality of your store. Again, don't forget to place your store URL somewhere visible. Check out webdesigner depot for 12 essential rules to follow when designing a logo.
5. Order early and in bulk.
You'll not only receive a Seller Discount if you order your own card designs, but you could save even more in bulk discounts on any set of 10 or more cards, even if they have different designs. Order early and you'll have enough time to write a thoughtful note for each one.
If card design isn't your strong point, consider using one of the thousands of other great holiday cards in the marketplace. Also, be sure to take advantage of the free cards promotion to sample a few designs that you may want to use for your holiday mailing. The promotion ends on 10/16, so get your free samples soon!
Finally, even if you don't plan on doing a mailing, add some new templates for greeting cards and photo cards to the Marketplace, and you'll cash in on everyone who will be looking for something to send!
Zazzle Stat Pak:
Get Inspired!
Based on recent user trends, here are some fun design ideas for the coming week: