What You Can Learn From Politicians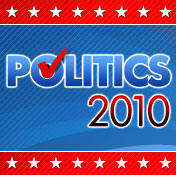 Election Day is less than a month away, and now that we've stocked up on political gear, we'd like to share what we've learned from some of the best salespeople around.
Here are three lessons of selling that you can learn from politicians:
1. Successful selling is like a campaign
Just like a politician who's always shaking hands and kissing babies, you need to get out there as a Zazzle Seller. Go public with your Zazzle store. Spread the word, spread your links, and connect with potential customers. Get involved in online forums and other social networking groups that may be interested your products. Heck, you could even make a bumper sticker!
2. Remember that you're on 24/7
Zazzle never closes. We're open all day, every day, meaning that from the moment that your products hit the marketplace, they can start selling. Like a winning politician, who gains momentum by staying in the public eye, be on top of your marketing—don't miss out on sales by being invisible. Every time that you publish a new product, take a couple of extra minutes to share on your blog or on Facebook. In case you missed it, you'll find lots of other helpful blogging tips in Santa's Search Checklist.
3. Know what your customer wants
Whether you design for a specific niche or for your own interests, you'll want to know what your potential customers might be looking for. Like voters, your shoppers will have an agenda (especially during the holidays) so make sure to use your blog and social networking sites to promote designs that are seasonally relevant. For instance, you might want to consider promoting highly customizable gifts like mugs, photo cards, and calendars during the holiday season.
Speaking of calendars, now is the time to start updating this year's designs for 2011. Calendar searches are about to skyrocket, so you don't want to be outdated!
Zazzle Stat Pak:
Get Inspired!
Based on recent user trends, here are some fun design ideas for the coming week:
Associate's Corner:
Use our new free cards banner on the Associate Banners page, and earn referrals selling some of the best card designs in the marketplace! Note: Do this soon! The free cards promotion ends on October 16th.