3 Tips for Overcoming Zazzler's Block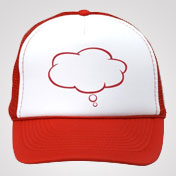 You've been there: You sit down, all set to create a new design, when all of a sudden, your mind goes blank. You can't think of what to make, but since you're already at the computer, you decide to surf the internet for a minute until you get an idea, but then a minute turns into ten minutes, which turns into an hour, and before you know it, you've spent all night watching music videos and Google stalking old acquaintances instead of updating your Zazzle store.
Even if you aren't an internet procrastinator, you're probably still familiar with the agony and frustration of losing your creative inspiration, so here are our favorite tips for overcoming Zazzler's block:
1. Set goals
The best way to accomplish your goals is to make them! Set aside a certain period of time each day to do your Zazzle work. Even if you only use this time to post on your blog or update your Facebook or Twitter, making Zazzle a part of your daily routine will remove the pressure of having to do a huge amount of product creation and promotion all at once. Besides, if you're consistently producing new content and consistently promoting your stores, then you should also see some consistency in your Zazzle royalties. Calendars are a great way to keep track of your progress, but don't wait until the new year to get your new Zazzling habits in order. Start now and you'll be able to reap the benefits of the holiday season!
2. Do something else
You may not feel inspired to create something new, but that doesn't mean that you can't take care of the other Zazzle stuff that you've been meaning to do. Whether you optimize your product tags or change the dates on your calendars and graduation invitations, this type of busy work will help you to stay on task and away from the time suck of other less productive activities. Start small, and you'll be back to work on your best-selling creations in no time. Just be patient-sometimes your inner-artist needs a little time to recharge.
3. Search for inspiration
Don't wait for inspiration to come to you-search for it! One of our favorite ways to get inspired during a creative block is to look up fun holidays to design for. There are lots of great websites that are devoted solely to wacky and bizarre holidays and observances; all you need to do is add the dates to your calendar. For instance, we recently learned that today is Sweetest Day, so we decided to celebrate with a little sale. Be sure to catch this sweet deal before it ends tonight!
Anyway, next time you're feeling unmotivated, remember the tips above and you'll be a happy Zazzler in no time!
NOTE: If it isn't obvious, we've got calendars on the brain. We're planning to have a huge 2011 calendar sale before the end of this month, so we hope that you'll make some new calendar designs, or at least update your old ones soon—you won't want to miss out on those royalties!
Zazzle Stat Pak:
Get Inspired!
Based on recent user trends, here are some fun design ideas for the coming week:
Associate's Corner:
Gamers love Mega Man. Promote Capcom's Mega Man store, and you just might beat your high score—of referrals, that is!