Trick or Treat!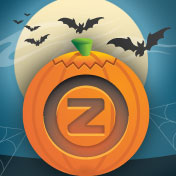 Here at Zazzle, gooey candy isn't the only thing that we'll be handing out this Halloween. In celebration of our favorite spooky holiday, we've got some great tricks and a special treat that Sellers will definitely enjoy in the coming week.
From now until Halloween, stop sneaking chocolates from the candy stash, and indulge in a sweet Seller deal instead: Use the code CRDS4SELLERS and you'll receive 50% OFF business cards from now through October 31st.
Like Halloween goodies, business cards aren't hard to hand out, but they are definitely hard to keep. So, to go along with this exclusive Seller treat, here are some neat tricks to make sure that your business card *sticks* around:
1. Make it useful.
You already know how crazy we are about calendars, so why not turn your business card into a pocket calendar for customers to keep in their wallets. If your business card has a function other than holding your store info, your potential shoppers will be more likely to keep it on hand.
2. Make it a magnet.
Make your business card stick - literally! Put your store info on a custom magnet, and potential shoppers will be less likely to toss it. Convenient to use around the home or office, magnets are easy to stick anywhere, so make your design memorable, and your potential customers will constantly be reminded of your store.
3. Make an offer.
Everyone loves a gift card. Follow our advice, and send a freebie offer in your upcoming holiday mailing. You'll get to publicize your store, and even gain referrals as long as you include the Zazzle Star.
4. Make it indestructible.
Make a card that they simply can't get rid of! Take advantage of this half-off Seller deal and have your business card design printed on an indestructible card. Great for party tricks, your indestructible business card will be a hit with all the ghosts and goblins.
So, there you have it. Don't wait too long on this Seller treat - order your business cards soon before this Halloween deal disappears!
Zazzle Stat Pak:
Get Inspired!
Based on recent user trends, here are some fun design ideas for the coming week:
Associate's Corner:
Trick or Treat, and ZOMBIES! Promote Quirk Classics products this Halloween, and your referrals may get creepily high.