Daylight Savings Tips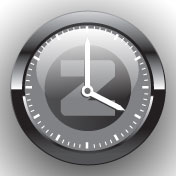 Yikes! Tomorrow is Halloween - we hope that you took advantage of last week's Seller treat. If not, you still have until tomorrow to save 50% on business cards. Just use the code: CRDS4SELLERS.
If you've procrastinated for this long about ordering your half-off business cards, we bet that you've also been putting off other important things like preparing your store for the holidays.
The days may be getting shorter, but take advantage of the clocks rolling back next weekend, and spend your extra hour working on your Zazzle store.
Here are a few time-saving tips to make the most of your Zazzle hours:
1. Upload all of your new images at once
Use our Bulk Image Uploader to add lots of images to your account all at once. Compatible with Macs and PCs, this tool will save you lots of time when it comes to product creation.
2. Recycle your designs
Make designs that work for multiple occasions, then swap out your text templates, titles, and tags as needed. For example, you can use the same patterned designs to make wedding invitations and birthday party invitations.
3. Automatically promote new designs
Use an RSS-to-Twitter program like Twitterfeed to automatically update your Twitter whenever a new product is published in your store. You can use your store feed or create other RSS feeds using any keyword.
This isn't a time-saving tip, but you might also want to spend some time on your hoodie designs. Hoodies will be half-off during next week's Friday 4 Hour Sale, so make sure that your designs are tagged and priced appropriately. Although the sale is subject to change, it's still a good idea to get your hoodies ready. Shoppers have already begun to look for fall weather apparel, so put down the candy corn, and start designing. And, of course, Happy Halloween!
Zazzle Stat Pak:
Get Inspired!
Based on recent user trends, here are some fun design ideas for the coming week:
Associate's Corner:
Shoppers can't resist t-shirts under $20, so get to referring!