Fall Weather Wonders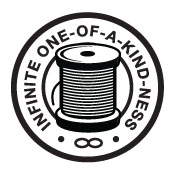 We hope you took advantage of this weekend's hoodie sale to promote your best fall weather designs! Even though the sale will be over soon, we'd like to keep preparing for fall and winter with lots of great new designs for our warmer apparel items. Embroidered track jackets and sweatshirts, in addition to other embroidered items like embroidered hats and embroidered bags, which make lovely holiday gifts.
To that end, here are a few things to keep in mind when creating designs for embroidery:
1. Use simpler designs
The best embroidery designs are simple vector images with bold thick lines and solid colors. Photos and other complex patterns and designs with lots of small lines will not stitch well.
2. Use fewer stitches
The more stitches you use, the more expensive your embroidered products will be, so try removing background or unneeded colors from your designs to keep your products more attractively priced for your customers.
3. Use text only
Not only is text free to digitize, but there are also over 100 fonts to choose from, including monogram styles, which are perfect for tote bags, hats, and jackets. Monogrammed bags and hats for dads are wonderful gifts for the holidays and the rest of the year.
We hope that you'll use the tips above to create some new embroidery designs for the coming season. We have a feeling that they will be very well-received. In fact, to make things a little easier, here's a code for 70% off digitization: EMBROIDERY70.
We all know that the arrival of fall weather means that Thanksgiving is on its way, so in honor of Turkey Day, we're holding a contest to find the very best recipe binder. To enter your recipe binder, just tag your design with zazzleaveryrecipecontest2010 and post it for sale by November 14th. Visit the Zazzle Blog for more contest details. The grand prize is $1000, so we suggest that you start cooking up some new designs now!
Zazzle Stat Pak:
Get Inspired!
Based on recent user trends, here are some fun design ideas for the coming week:
Announcement!
Hey, local Zazzlers: Zazzle will be hosting our second Designer Garage at Zazzle Headquarters next Tuesday, November 9th during the evening. Completely free to attend, the Zazzle Designer Garage is a great place to learn important tips and tricks from Zazzle experts and employees, and a wonderful way to connect with other artists and designers. For more info, check out the Zazzle Blog, or go directly to the Facebook Event Page and RSVP.