New Features in Marketplace Search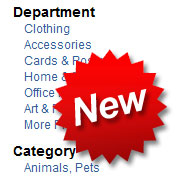 In case you haven't noticed, we've made some major changes in how search works on Zazzle. Since search is the main way that Zazzle shoppers find products in the Marketplace, we thought it would be a good idea to highlight some of the new search functions and provide some tips on how Sellers can get the best results from this new development.
Here are some of the new features of Zazzle's marketplace search and some quick notes about each one:
Search by department or design
Filter by department, product type, style, or embellishment (printed vs. embroidered)
See any design on other available styles and products in one click
You may notice that products with the same design are bundled into one result, creating space for a larger number of Sellers/designs to show up in the results at any given time. This means less marketplace spam and more visibility for everyone.
Search by price
Display price in each search result
Sort search results by price (low-to-high and high-to-low)
Make sure that your pricing is reasonable for your product type. You don't want to be excluded from the search results for being too expensive, especially when shoppers will be looking for holiday gifts for everyone on their lists.
Other search functions
Improved filtering by category
Filter by customizability and templates
These new search options are designed to help shoppers find your best designs, so be sure to select the appropriate categories for your products, and keep up the awesome work!
Zazzle Stat Pak:
Get Inspired!
Based on recent user trends, here are some fun design ideas for the coming week:
Hey, Sellers: We want to hear from you!
Help us get to know you better - take our quick Seller survey and check back each week for the results and a brand new set of questions!