Gobble Up!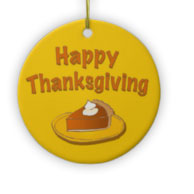 Thanksgiving is only a few days away, and we can already taste the turkey! Whether you're travelling to be with family this week or staying right at home, we hope that you get lots of rest because the holiday season is about to shift into overdrive.
Tons of Black Friday shoppers will be looking for Blitzen Deals next weekend, so we hope that you'll take some time before then to make sure that your designs are real crowd-pleasers. Here are some of the products that we expect to be popular:
Custom iPad and iPhone Cases
Our newest product, custom cases are the perfect stocking stuffer for people of all ages. Make sure that you have a range of designs for all kinds of personalities.
Ornaments
Just in time for tree-trimming, Zazzle's custom ornaments are another recently launched product that will be highly searched in the coming weeks. We predict that photo ornaments will be especially popular, so try to make some templates. Also, in case you missed it on the Zazzle Blog, we're holding a holiday ornament design contest until December 2nd, so be sure to submit your designs soon!
Cards
Procrastinators will be looking for holidays cards until way after Christmas. Get your card designs ready this weekend *hint hint* and you'll be way ahead of the game.
Custom Postage
A great gift for friends and family, custom postage is also very popular for holiday mailings. If you really want to be prepared, be sure to have your custom postage designs ready *before* the tryptophan sets in.
Since merchandising will help your designs stand out in the search results, we've got a tip that you may find useful:
When adding a new design to the marketplace, choose a product view that is different from the default. After browsing through a bunch of front-view designs, shoppers' eyes will definitely be drawn to products that are displayed at an angled position or in other non-default views. If you want to change the view on any of your existing designs, simply find it in the "products" tab of your account, click "actions" and "edit", then "change style", and your product preview will be updated automatically.
Happy Thanksgiving!
Zazzle Stat Pak:
Get Inspired!
Based on recent user trends, here are some fun design ideas for the coming week:
Hey, Sellers: Tell us more!
There was such an overwhelming response to last week's survey that we want to know even more. Share your opinions in Seller Survey #2!