Year-End Goals and New Resolutions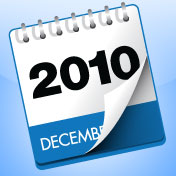 December has only just begun, but it's never too early to start thinking about New Year's Resolutions. There are 3 weeks left in 2010 and now is the perfect time to evaluate where you stand in terms of year-end goals. No matter how well your store has performed, here are a few ideas for making your next year as a Seller even better:
Try something new.
Make designs for our newest products. If you haven't tried creating ornaments, custom cases, or coasters by now, we suggest that you give it a shot. You may discover a new profitable product.
Develop a skill related to your art.
Take an art class or find an online tutorial and brush up on your photography, painting, or graphic design skills. With a larger variety of artistic talents to choose from, you'll be able to create a wider range of designs.
Broaden your target audience.
If you design for a specific theme like baby showers or weddings, try to expand your niche to include other types of celebrations. One timely idea that you might want to try is New Year's invitations. By widening your selection of offerings, you will be able to expose your products to a larger customer base.
Challenge yourself.
Set optimistic goals for yourself as a Seller, and you'll be more likely to try to reach them. Choose a target number for how many products you'd like to add to your store or how much money you'd like to earn, and work all year towards that magic number.
Start small and start soon!
Instead of giving your store a major overhaul, start with the small details. For example, before doing a major project like advanced store customization or restructuring your category display, make sure that all of your products have appropriate tags, titles, and royalty settings. Get started on updating your store now, and the task won't seem so daunting come January.
Ideally, you've been improving your store all year long, but it's never too late to get started, so hop to it, and see some last-minute sales for the holiday season. We know that many of you have already been working hard in the last few months, so as a treat to you, here's 20% off anything in your Zazzle Store. Use code SELLERSALE20 at checkout to receive your special Seller discount.
Zazzle Stat Pak:
Get Inspired!
Based on recent user trends, here are some fun design ideas for the coming week:
Results from Seller Survey #2
| | |
| --- | --- |
| - | More than half of you were originally referred to Zazzle by a friend! Other popular ways of discovering Zazzle were by Google search or by migrating from other POD sites because you know that Zazzle is the best! |
| - | Ways to improve - many of you wanted to see lots of new products being sold on Zazzle, and guess what… that is exactly what we intend to do, so keep your eyes open for all of the exciting things to come. |
We hope that you'll tell us even more in Seller Survey #4!