We're Too Sexy for Our Shirts…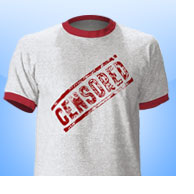 Just kidding! We've recently noticed that some Sellers have been tagging their items with inappropriate tags in order to gain more hits in their stores. Not only is this type of tagging considered spam, but it also holds no benefits in the long run. Here's why:
When we send product feeds to external agencies like Google Product Search, they scan the tags for X-rated terms, and then reject those products or relegate them to adults-only sections of their sites. As a result, the products become less visible to the general public and, in the end, generate fewer sales. The indirect consequences of inappropriate tags may also include reduced page-rank or content filtering, which in many schools and offices means that your entire product page is blocked from viewing. On the whole, the losses from this filtering definitely outweigh any benefits that might come from being inappropriately included in popular search results, so make sure that your tags are suitable for all ages.
Since we're on the topic of external product feeds, here are a few social shopping websites that are great for promoting your designs:
Kaboodle.com - Create a profile using your Facebook ID and use the Add to Kaboodle button to add Zazzle products to your lists. You can also spread the love (and earn referrals) by creating styleboards that feature your products alongside designs from your fellow Sellers.
Myitthings.com - Create a profile, then add Zazzle products to the site or write posts about them. Don't forget to include the product page URL as the source.
Chictini.com - Set up a designer account, then fill in your profile and add your products to the site. Don't forget to include your referral ID in the URLs.
Wishpot.com - Create an account using your Facebook ID, then use the Wishpot Button to add products. If you have a fan page on Facebook, you can install the Wishpot Facebook Application to keep your friends up-to-date.
The perfect way to promote your own designs, these sites are also useful for earning associate referrals; just make sure that your unique associate ID is attached to every product page URL. So, whether you decide to share your iPad case contest entry or spread the word about our new Star Wars Christmas Gifts, you'll be sure to find lots of followers and fans!
Zazzle Stat Pak:
Get Inspired!
Based on recent user trends, here are some fun design ideas for the coming week:
Seller Survey Results
Here's what we learned about Sellers in Survey #3:
| | |
| --- | --- |
| - | An astounding 90% of you have friends that are artists, so spread the word and tell all of your artist friends to open their own stores on Zazzle! |
| - | Almost all Zazzle Sellers are members of other online artist communities - what a great way to promote your Zazzle products! |
Share more with us in Seller Survey #5!