New Year, New Search Tips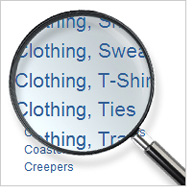 2011 is going to be a big year for Sellers. Bring in the New Year with a bang, and set up your store for success all year long. Here are some new tips on how to optimize your products for Zazzle's marketplace search:
1. Choose your product styles wisely
Be sure to filter out any product styles that don't look good with your design. This is especially important for apparel. If your design doesn't show up well on dark colors, then you should limit the product options to light apparel only. Similarly, if your design is just for kids, make sure to choose only the most age-appropriate apparel options. This will ensure that the "see on more styles" link will only take customers to products that complement your design.
2. Pick the best prices
Price your products competitively. Look at similar products in the marketplace and set your prices in the ballpark of those designs. Each price range in the search navigation has a real-time display of the number of products available, so you'll easily be able see which prices are the most popular.
3. Make more products
Use Quick Product Create to put your design on a group of products, so that the "see on more products" link is activated for your design. We also recommend that you allow customization and make templates when appropriate, so that shoppers looking for those options can find them in search.
4. Tighten up your tags
We can't say this enough: Highly relevant title and tags will ensure that your product is included in the right search results. Five or six descriptive tags are really all that you need, so don't waste your search power by including your store handle in your tags. It doesn't help at all. Trim the excess from your tags and your store will be in tip-top shape for 2011.
As excited as we are for January, there's still some time left in December, so we hope that you'll take advantage of these next two weeks to get your store ready for the New Year!
Zazzle Stat Pak:
Get Inspired!
Based on recent user trends, here are some fun design ideas for the coming week:
Seller Surveys
Here are some fun facts from Seller Survey #4:
| | |
| --- | --- |
| - | 81% of you do your holiday shopping on Zazzle - and why wouldn't you when Zazzle has gifts for everyone on your list! |
| - | As for your favorite new products of the season: 45% of you favored iPhone/iPad cases, 38% liked custom ornaments, and 17% fancied coasters! |
Share more in Seller Survey #6.