Happy New Year!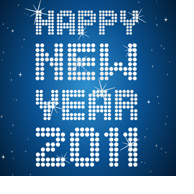 Hopefully you've already started on your goals for this year, but in case you haven't, here are a few more resolutions for success in 2011:
1. Get connected
Networking online and offline are the best ways to build your business. Invite your friends on Facebook to "Like" the Fan Page for your store, or hand out your own business cards printed with your store info. Be sure to use the Zazzle Star in order to earn referrals. Just remember, there's no activation necessary - just add an asterisk to the end of your store URL and post your link!
2. Get out more
Step away from your computer every once in a while and take a walk, or go for a run. Not only will the increased blood flow make your body feel better, but you just may come up with a brilliant design idea along the way. If you're looking for a fitness group or want more suggestions on how to get active, check out the Zazzle Athletes page on dailymile.com.
3. Skip the sitcoms
In the 30 minutes that it takes to watch a TV sitcom, you can bulk upload images, create and tag multiple products, update your Facebook fan page, add a friend, write several tweets, and make a blog post about your newest designs. Work smart this year and set aside a half-hour to update your store or promote your products every day. Some ProSellers spend 4 or 5 hours working on their stores each day, while others work full-time on Zazzle, so if you're just starting off, 30 minutes is a great first step toward success!
4. Do your research
Often the most significant trends in product design are related to color schemes, so be sure to check out the color trend forecasts for 2011. Whether your customers are shopping for wedding invitations, Valentine's Day gifts, home décor, or apparel, they'll be on the look-out for designs that are ahead of the curve, so be sure to stay in the know about what's popular and add new designs regularly.
5. Help others
Whether you teach a friend how to make a store, give advice to newbies on the Zazzle forum, or leave nice comments on other Sellers' products, your acts of kindness serve as a great encouragement for everyone, and they truly strengthen the Zazzle community. Check out last week's newsletter for more ways to help others using Zazzle.
So, there you have it. Get started now on your resolutions and this year will be better than ever! Happy 2011!
Get Inspired!
Based on recent user trends, here are some fun design ideas for the coming week:
What's your New Year's resolution?
Tell us your goals for this year in Seller Survey #7!