Work S.M.A.R.T. in 2011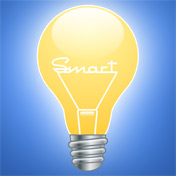 According to a recent study, nearly 30% of New Year's resolutions will be abandoned by the end of the first week of January. Stay on track this year by working S.M.A.R.T. and setting goals that are Specific, Measurable, Attainable, Realistic, and Timely. Here are some of the goals that you shared with us for 2011:
"Reach 2000 quality products. Expand on my cards collections. Develop wedding and baby invitations collections. Make an awesome design that Zazzle features in a newsletter or a front page."
- RossiCards
"My goal for this year is to increase my income from Zazzle so that I will be fully self-sufficient and doing a job that I absolutely love!"
- JessicainSeattle
"To continue to build my store and to make silver ProSeller level. Lofty since I haven't even gotten to "Pro" yet… I want to build Zazzle into a business that I can have for years to come."
- BevsDesigns
"Design LGBTQ-inclusive cards for holidays."
- AtomicCafe
"To keep up on my Squidoo lenses... I've been getting lots of referrals, so I want to keep that up."
- Scribbleprints
"Get designs into my store 6 weeks before the next holiday; well, maybe 4 weeks."
- Appaloosa Depot
Sometimes the best way to get things done is in a group, so support your fellow Sellers, or share your own 2011 Zazzle Goals in the forum. Keep in mind that Valentine's Day will be here soon, so now's your chance to make your resolutions work for you. Shoppers will be looking for all kinds of gifts for their sweethearts, so be sure to fill your stores with designs for cards, postage, apparel and even anti-Valentine's Day gifts. Stick to your Zazzle goals this month, and this V-Day might be lovelier than ever!
Get Inspired!
Based on recent user trends, here are some fun design ideas for the coming week:
We have a winner!
Congratulations to Lowschmaltz, designer of the winning invitation for Zazzle's annual holiday party. With a whopping 238 contest votes, the Z-themed design was chosen as the winner by our panel of esteemed judges. Many thanks to everyone who participated!
Check out the winning design and a few of the finalists on the Zazzle Blog.
Feel like sharing? Tell us more about you in this week's Seller survey.